Versatile Snap Pack Packaging: A Revolutionary Solution for Convenience and Sustainability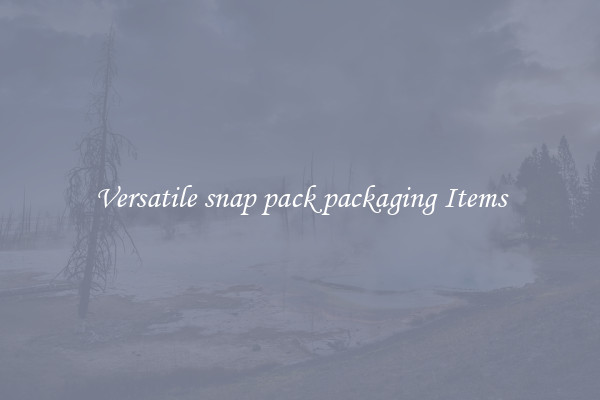 Packaging plays a vital role in preserving the freshness and quality of products while also providing convenience to consumers. In recent years, a new packaging innovation called snap pack packaging has emerged as a versatile solution that offers numerous benefits. This article will explore the concept of snap pack packaging, its advantages, and its impact on sustainability.
Snap pack packaging refers to a packaging design that consists of individual compartments or containers connected together. These compartments are easily detachable by snapping them apart. This feature allows for easy portioning, reduces product waste, and enhances convenience for consumers.
One of the key advantages of snap pack packaging is its versatility. It is suitable for a wide range of products, including food items, beverages, personal care products, and even pharmaceuticals. The individual compartments allow for precise portioning, ensuring that consumers can use only the amount they need while keeping the remaining product fresh and sealed.
In terms of convenience, snap pack packaging is a game-changer. For example, imagine you are on a camping trip and need to carry various condiments such as ketchup, mustard, and mayonnaise. Instead of carrying multiple bottles that take up space, snap pack packaging allows you to take just the right amount in individual compartments. This not only saves space but also eliminates the hassle of carrying bulky bottles and the risk of leaks.
Snap pack packaging also addresses the issue of product waste. Traditional packaging often leads to wasted product, especially when it comes to products with a short shelf life. With snap pack packaging, consumers can use just the desired amount, reducing the likelihood of unused portions being thrown away. This is particularly significant in the food industry, where food waste is a pressing concern.
Moreover, snap pack packaging contributes to sustainability by reducing plastic waste. The interconnected compartments eliminate the need for additional packaging materials such as plastic bags or wrappers. This, in turn, reduces the overall plastic waste generated. With increasing environmental consciousness, snap pack packaging offers a promising solution for brands looking to reduce their carbon footprint.
Furthermore, snap pack packaging is user-friendly. The easy snapping mechanism ensures that even people with limited dexterity, such as children or seniors, can handle the packaging effortlessly. This inclusivity enhances the overall consumer experience and widens the market potential for brands adopting this packaging design.
In conclusion, versatile snap pack packaging has revolutionized the way products are packaged, offering convenience, reducing waste, and promoting sustainability. Its diverse applications, from food to personal care products, make it a game-changer in the packaging industry. As more brands embrace this innovative design, we can expect to see a significant reduction in plastic waste while delivering convenience and value to consumers.